Good Quality Auto Car Part New Formulation Ceramic Disc Brake Pad for NISSAN D4060-JL00A
Product Detail
Product Tags
Key Features
LONG-LASTING
As all brake pads wear down over time, they produce dust. However, ceramic brake pads produce a finer and lesser amount of dust and other particles. Not only is the lighter-colored brake dust less noticeable, but it also does not stick to the vehicle's wheels as most other brake dust. The design of ceramic rotors is to last the lifetime of a car, yet, this will depend on the driver's impact to the discs.
NOISE LEVEL
Nobody likes hearing a loud sound after pressing down on their brakes. Ceramic brake pads are much quieter than semi-metallic pads because they are not as abrasive. The noise they do emit is above the range of human hearing. Thus, you should hear very little or no sound when braking.
DURABILITY
Whether you drive in hot or cold climates, ceramic brake pads are more stable than most other pads. The ceramic pads can handle a wide range of temperatures and still deliver consistent performance. Since they are more reliable in varying weathers, ceramic pads provide a fast recovery time after braking, produce less dust, and handle high brake temperatures with less heat fade.
Other Considerations
Change All Four Brake Pads at Once. When the time comes to replace your automobile's brake pads, there are a few things to consider: it is best to change out brake pads in pairs—either the two in front or the two in the back. However, the front brakes wear faster than the rear ones due to doing most of the work, causing them to need replacing more often. It is highly recommended that you replace all four simultaneously to avoid uneven braking time or steering issues.
Know When Your Brake Pads are Wearing Out. Your vehicle needs new pads if you start hearing high-pitched noises (squealing, squeaking, or grinding) whenever applying pressure to the brake, either when slowing down or stopping the vehicle. These noises are a good indication that your vehicle's brake pads need replacing.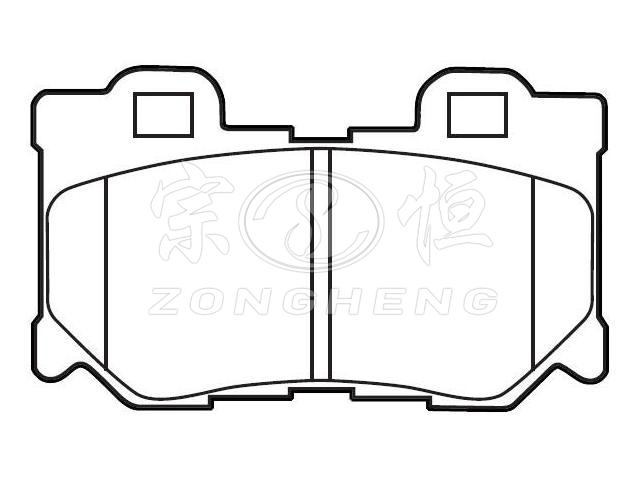 INFINITI FX50 2009-2013
INFINITI G37 Journey Sport Pack 2009-2010
INFINITI G37 Sport 2008-2013
INFINITI M37 Sport 2011-2013
INFINITI M56 Sport 2011-2013
INFINITI Q50 Sport 2014
INFINITI Q60 Sport 2014
INFINITI Q70 Sport 2014
INFINITI QX70 5.0 Liter 2014
NISSAN 370Z Sport 2009-2014
| | | |
| --- | --- | --- |
| Factory | Number | Number |
| AK | A-750WK | A750WK |
| AK | AN-750WK | AN750WK |
| FERODO | FDB4312 | FDB4312 |
| FMSI | 8458-D1347 | 8458D1347 |
| FMSI | D1347 | D1347 |
| FMSI | D1347-8458 | D13478458 |
| LPR | 05P5051 | 05P5051 |
| MINTEX | MDB3050 | MDB3050 |
| MINTEX | MDB3110 | MDB3110 |
| MK | D1284M | D1284M |
| OE | D4060-4GH0A | D40604GH0A |
| | | |
| --- | --- | --- |
| Factory | Number | Number |
| OE | D4060-JL00A | D4060JL00A |
| OE | D4060-JL00E | D4060JL00E |
| OE | D4060-JL00J | D4060JL00J |
| OE | D4060-JL00K | D4060JL00K |
| PAGID | T1902 | T1902 |
| PAGID | T1993 | T1993 |
| REMSA | 1365.01 | 136501 |
| TEXTAR | 2492101 | 2492101 |
| TEXTAR | 2499501 | 2499501 |
| TRW | GDB3515 | GDB3515 |
---
---