Brake Pad Set D1029 Auto Spare Parts for BUICK Auto Accessory Front Axle GDB1688
Product Detail
Product Tags
ORGANIC BRAKE PADS
Originally, brake pads were made from asbestos, a heat-absorbing material that was well-suited for the wear and tear that brake pads took on. However, asbestos has been found to be a highly-potent carcinogen and prolonged exposure to it can cause cancer. Asbestos-based brake pads would wear down over time, releasing asbestos that stuck to tires and get into the air. Manufacturers realized asbestos wasn't a safe compound to use for manufacturing braking systems. As a result, organic brake pads, or non-asbestos organic (NAO) brake pads, were created to fill the gap.
Organic brake pads, which come standard on about 67% of new vehicles sold within the United States, are made of a mixture of fibers and materials such as rubber, carbon compounds, glass or fiberglass, Kevlar, and more, and are bound together with resin. They tend to produce less dust than some other types of brake pads, such as metallic ones, and are available at a reasonably low price point. Unlike performance brake pads, which are primarily used in heavy and high-performance vehicles, organic brake pads generate a moderate amount of friction without much heat being present, making them suitable for drivers who use their cars for normal driving and commuting. Organic brake pads also tend to be quiet and don't put much stress on the brake rotors, which is a plus because brake rotors can be costly to repair or replace if damaged.
However, organic brake pads do have some disadvantages when compared to other types of brake pads. Because of their composite nature, organic brake pads can tend to wear out a bit more quickly, meaning they might have to be replaced more often. They also tend to function best within a smaller range of temperatures, meaning they don't work as well in extreme weather or when they are being pushed too hard and overheat. Organic brake pads also have a higher level of compressibility, which means the driver has to press the brake down with more force to engage them.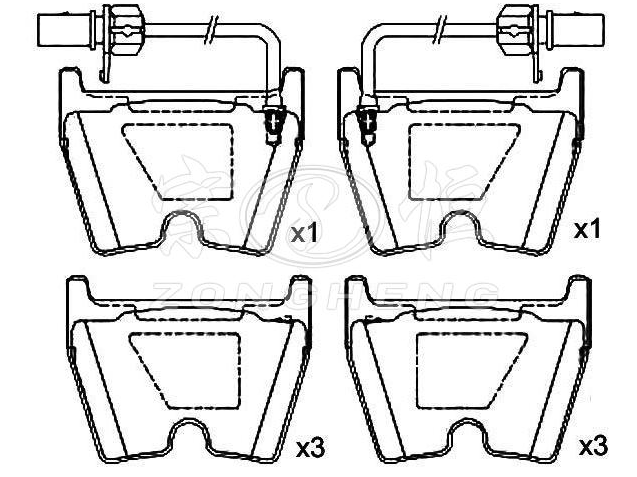 AUDI
LAMBORGHINI
VOLKSWAGEN
AUDI R8 2008-2012
AUDI R8 2014
AUDI RS4 2007-2008
AUDI RS5 2013-2014
AUDI RS6 2003-2004
| | | |
| --- | --- | --- |
| Factory | Number | Number |
| ATE | 13.0460-4800.2 | 13046048002 |
| BENDIX | 573195B | 573195B |
| BREMBO | P 85 078 | P85078 |
| FERODO | FDB1664 | FDB1664 |
| FERODO | FDB4165 | FDB4165 |
| FMSI | 7934-D1029 | 7934D1029 |
| FMSI | 7934-D1266 | 7934D1266 |
| FMSI | 8372-D1029 | 8372D1029 |
| FMSI | D1029 | D1029 |
| FMSI | D1029-7934 | D10297934 |
| FMSI | D1029-8372 | D10298372 |
| FMSI | D1266 | D1266 |
| FMSI | D1266-7934 | D12667934 |
| MINTEX | MDB2601 | MDB2601 |
| OE | 3D0 698 151 A | 3D0698151A |
| OE | 400 698 151 | 400698151 |
| | | |
| --- | --- | --- |
| Factory | Number | Number |
| OE | 420 698 151 C | 420698151C |
| OE | 420 698 151 E | 420698151E |
| OE | 4B3 698 151 A | 4B3698151A |
| OE | 8E0 698 151 H | 8E0698151H |
| OE | 8H0 698 151 H | 8H0698151H |
| PAGID | T1222 | T1222 |
| REMSA | 0896.02 | 089602 |
| TEXTAR | 2375101 | 2375101 |
| TRW | GDB1507 | GDB1507 |
| TRW | GDB1688 | GDB1688 |
| WAGNER | WBP23751A | WBP23751A |
| WAGNER | WBP23751B | WBP23751B |
| WVA | 23751 | 23751 |
| WVA | 23764 | 23764 |
| WVA | 23765 | 23765 |
---
---