Auto Parts Brake Pads for VOLVO 822-1120-0
Product Detail
Product Tags
Brake pads feature a metal backing plate with friction material on its face that presses against the brake rotor surface to stop your vehicle. They are compressed by the brake caliper when it receives hydraulic pressure from the master cylinder. Brake pads naturally wear down over time, but it's important to pay attention to their wear patterns. If the brake pads are squealing or grinding, they may have worn down to the backing plate, which can cause damage to the rotor. Brake pads that wear unevenly may indicate a problem with your brake caliper or guide pins. When your brake pads need to be replaced, you may notice your car shaking or pulsing when you brake. This may also be caused by a warped rotor, so it's best to replace both when you complete a brake job. When you're ready to fix your brakes, check out O'Reilly Auto Parts. We carry brake pads, brake rotors, brake calipers, and more for a complete repair.
Tips
Take note that ceramic pads do not prevent rotors from warping. If a driver misuses or overheats car brakes, the rotors will warp. Some brake pads have improved heat-dissipation qualities, which can help prevent warping, but only to a certain degree since there is no way for rotors to be completely exempt from becoming warped. Thus, handle the brakes of a vehicle with care by avoiding hard braking whenever possible.
Whether you have a vehicle with new or replacement ceramic brake pads, go easy on the pads at first. With ceramic brake pads, it is a good idea to avoid stopping quickly or braking heavily for at least the first few 100 miles.
Each brake pad manufacturer will have a different recommendation for when you should replace your vehicle's brake pads. Yet, most shops urge car owners to replace brake pads when only 20 percent of the original thickness remains or anywhere up to 70,000 miles.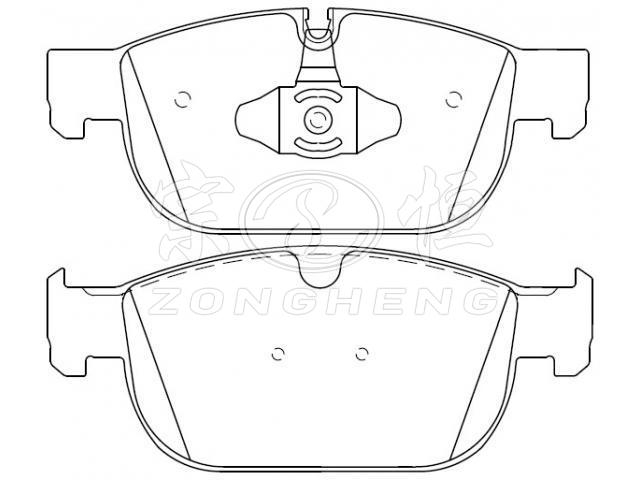 VOLVO XC90 2016-
VOLVO XC90 Comfort 2016-
VOLVO S90 2017-
VOLVO S90 Comfort 2017-
| | | |
| --- | --- | --- |
| Factory | Number | Number |
| A.B.S. | 35151 | 35151 |
| AK | AN-943K | AN943K |
| APEC BRAKING | PAD2130 | PAD2130 |
| ATE | 13.0460-7328.2 | 13046073282 |
| BORG & BECK | BBP2597 | BBP2597 |
| BRECK | 22317 00 553 00 | 223170055300 |
| BREMBO | P 86 027 | P86027 |
| BREMSI | BP3756 | BP3756 |
| CIFAM | 822-1120-0 | 82211200 |
| DELPHI | LP3256 | LP3256 |
| E.T.F. | 12-1676 | 121676 |
| FMSI | 9094-D1865 | 9094D1865 |
| FMSI | D1865 | D1865 |
| FMSI | D1865-9094 | D18659094 |
| GALFER | B1.G120-1362.2 | B1G12013622 |
| GIRLING | 6121536 | 6121536 |
| HELLA | 8DB 355 024-801 | 8DB355024801 |
| HELLA PAGID | 8DB 355 024-801 | 8DB355024801 |
| ICER | 182272 | 182272 |
| KAWE | 1696 00 | 169600 |
| LPR | 05P2004 | 05P2004 |
| METELLI | 22-1120-0 | 2211200 |
| MINTEX | MDB3839 | MDB3839 |
| MOTAQUIP | LVXL1894 | LVXL1894 |
| | | |
| --- | --- | --- |
| Factory | Number | Number |
| NIBK | PN0696 | PN0696 |
| NK | 224831 | 224831 |
| OE | 31445975 | 31445975 |
| OE | 31445976 | 31445976 |
| OE | 31476722 | 31476722 |
| OE | 31476723 | 31476723 |
| OE | 3 149 990 5 | 31499905 |
| OE | 3 149 990 6 | 31499906 |
| OE | 3 166 528 8 | 31665288 |
| PAGID | T2515 | T2515 |
| PROTECHNIC | PRP1928 | PRP1928 |
| R BRAKE | RB2272 | RB2272 |
| REMSA | 1696.00 | 169600 |
| ROADHOUSE | 21696.00 | 2169600 |
| SB | SP4024 | SP4024 |
| SBS | 1501224831 | 1501224831 |
| TEXTAR | 2231701 | 2231701 |
| TRUSTING | 1120.0 | 11200 |
| TRW | GDB2153 | GDB2153 |
| TRW | GDB8118 | GDB8118 |
| WOKING | P17963.00 | P1796300 |
| ZIMMERMANN | 22317.185.1 | 223171851 |
| fri.tech. | 1120.0 | 11200 |
---
---