Wholesale Auto Parts Ceramic Disc Car Shoe Brake Pad Replacement Front & Rear for LINCOLN DG9C2M007DB
Product Detail
Product Tags
We are one of the largest brake pads' manufacturer in China .We are mainly engaged in the aftermarket of brake pads and have maintained long-term cooperative relations with many international famous brands in North America and Japan.
The advantages of Gihon brake pads:
With more than 1400 moulds, our bake pads could satisfy 98% passenger cars.
Gihon brake pads are of superior stopping power and got TS/ISO 16949 certificate
The brake pads are made according to FMSI standard and OE design.
All the brake pads are manufactured using positive mold process.
Most of the materials are imported from USA, Japan,etc
Having more than 8 years of producing experience.
Owning experienced technical team.
Quality control: JASO, AK-Master and LACT simulated testings, FMVSS 135 ,105 standard testing.
Experimental facilities : DYNO, NVH noise lab. shear testing and Chase testing
FAQs
Q: DO CERAMIC BRAKE PADS WEAR DOWN ROTORS FASTER?
The evolution of brake friction materials allows ceramic pads to handle high brake temperatures with less heat fade, smoother braking, and less friction. Ceramic pads are soft and wear down slowly; they do not damage rotors.
Q: DO CERAMIC BRAKE PADS SQUEAK?
Ceramic brake pads are often very quiet. However, if squeaking sounds occur, it is often the result of not using a brake lining shim or needing more anti-squeal lubricant on the back of the brake pads.
Q: DO CERAMIC BRAKE PADS STOP FASTER?
Just like their metallic brake pad counterparts, ceramic brake pads also uses metal parts in their formula, but the primary material is ceramic. The combination of ceramic compounds and copper fibers allow ceramic brake pads to handle higher brake temperatures with less heat fade, resulting in faster braking. Compared to organic brake pads, ceramic brake pads are also better at handling a more comprehensive range of temperatures and driving conditions.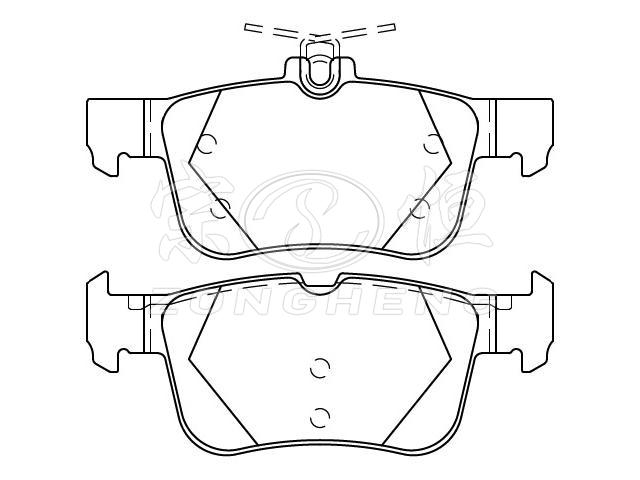 FORD Edge 17" Wheels 2015
FORD Edge 18" Wheels 2015
FORD Edge 2016
FORD Fusion Hybrid 2016
FORD Fusion 6 Speed Manual Trans 2016
FORD Fusion 2016
LINCOLN MKZ 2016
| | | |
| --- | --- | --- |
| Factory | Number | Number |
| ATE | 13.0460-7320.2 | 13046073202 |
| BOSCH | 0 986 494 839 | 0986494839 |
| BREMBO | P 24 201 | P24201 |
| FERODO | FDB4798 | FDB4798 |
| FMSI | 8893-D1833 | 8893D1833 |
| FMSI | 8893-D1834 | 8893D1834 |
| FMSI | D1833 | D1833 |
| FMSI | D1833-8893 | D18338893 |
| FMSI | D1834 | D1834 |
| FMSI | D1834-8893 | D18348893 |
| ICER | 182198-203 | 182198203 |
| JURID | 573687J | 573687J |
| LPR | 05P1978 | 05P1978 |
| LPR | 05P5337 | 05P5337 |
| MINTEX | MDB3799 | MDB3799 |
| OE | 5333787 | 5333787 |
| | | |
| --- | --- | --- |
| Factory | Number | Number |
| OE | 5333798 | 5333798 |
| OE | 5341207 | 5341207 |
| OE | 5341209 | 5341209 |
| OE | DG9C2M007BB | DG9C2M007BB |
| OE | DG9C2M007DB | DG9C2M007DB |
| OE | DG9C2M007HA | DG9C2M007HA |
| OE | DG9C2M007JA | DG9C2M007JA |
| OE | DG9Z-2200-F | DG9Z2200F |
| OE | DG9Z-2200-H | DG9Z2200H |
| OE | DG9Z-2200-J | DG9Z2200J |
| OE | DG9Z-2200-K | DG9Z2200K |
| OE | DG9Z-2200-L | DG9Z2200L |
| PAGID | T2476 | T2476 |
| REMSA | 1551.12 | 155112 |
| REMSA | 1551.42 | 155142 |
---
Previous:
Wholesale Auto Parts Ceramic Disc Car Shoe Brake Pad Replacement Front & Rear for LAND ROVER 9057-D1821
Next:
Wholesale Auto Parts Ceramic Disc Car Shoe Brake Pad Replacement Front & Rear for LAND ROVER D1838-9067
---