Good Quality Auto Car Part New Formulation Ceramic Disc Brake Pad for PORSCHE 971 698 451 A
Product Detail
Product Tags
CERAMIC BRAKE PADS
Another option for brake pads are ceramic brake pads. These brake pads are made from ceramic very similar to the type of ceramic used to make pottery and plates, but is denser and a lot more durable. Ceramic brake pads also have fine copper fibers embedded within them, to help increase their friction and heat conductivity.
Since they were developed in the mid-1980s, ceramic brake pads have been consistently increasing in popularity for a number reasons:
Noise-Level: Ceramic brake pads are very quiet, creating little-to-no extra sound when the brakes are applied.
Wear & Tear Residue: Compared to organic brake pads, ceramic brake pads tend to produce less dust and other particles over time as they wear down.
Temperature & Driving Conditions: Compared to organic brake pads, ceramic brake pads can be more reliable in a wider range of temperatures and driving conditions.
But, as with most things, there is some "give" that comes with the "take"; ceramic brake pads do have some limitations. Primarily, their cost: due to higher manufacturing costs, ceramic brake pads tend to be the most expensive of all types of brake pad. Also, since both ceramic and copper can't absorb as much heat as other types of materials, more of the heat generated by braking will pass through the brake pads and into the rest of the braking system. This can cause more wear and tear on other braking components. Lastly, ceramic brake pads aren't considered the best choice for extreme driving conditions, such as very cold climates or racing conditions.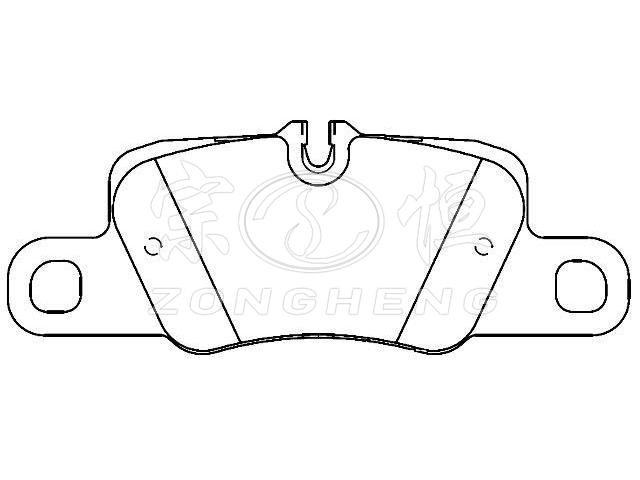 PORSCHE 911 2012
PORSCHE 911 Carrera S 2014
PORSCHE 911 Carrera S Ceramic 2014
PORSCHE 911 Ceramic 2012-2014
PORSCHE Panamera 2010-2014
PORSCHE Panamera Ceramic 2010-2013
| | | |
| --- | --- | --- |
| Factory | Number | Number |
| BOSCH | 0 986 494 431 | 0986494431 |
| BREMBO | P 65 020 | P65020 |
| BREMBO | P 65 023 | P65023 |
| FMSI | 8531-D1416 | 8531D1416 |
| FMSI | 8532-D1417 | 8532D1417 |
| FMSI | D1416 | D1416 |
| FMSI | D1416-8531 | D14168531 |
| FMSI | D1417 | D1417 |
| FMSI | D1417-8532 | D14178532 |
| ICER | 182207 | 182207 |
| MINTEX | MDB2975 | MDB2975 |
| MINTEX | MDB3127 | MDB3127 |
| MINTEX | MDB3295 | MDB3295 |
| OE | 970.351.949.05 | 97035194905 |
| OE | 970.352.947.03 | 97035294703 |
| OE | 970.352.949.02 | 97035294902 |
| OE | 970.352.949.03 | 97035294903 |
| OE | 970.352 949.04 | 97035294904 |
| OE | 970.352.949.05 | 97035294905 |
| | | |
| --- | --- | --- |
| Factory | Number | Number |
| OE | 971 698 451 A | 971698451A |
| OE | 971 698 451 D | 971698451D |
| OE | 991.352.948.02 | 99135294802 |
| OE | 991.352.948.03 | 99135294803 |
| OE | 991.352.949.00 | 99135294900 |
| OE | 991.352.949.01 | 99135294901 |
| PAGID | T1785 | T1785 |
| PAGID | T2015 | T2015 |
| PAGID | T2035 | T2035 |
| PAGID | T2197 | T2197 |
| REMSA | 1401.00 | 140100 |
| TEXTAR | 2455401 | 2455401 |
| TEXTAR | 2455402 | 2455402 |
| TEXTAR | 2455404 | 2455404 |
| TEXTAR | 2459201 | 2459201 |
| TRW | GDB1849 | GDB1849 |
| WVA | 24554 | 24554 |
| WVA | 24592 | 24592 |
---
Next:
Wholesale Auto Parts Ceramic Disc Car Shoe Brake Pad Replacement Front & Rear for JEEP 000 420 33 02
---